Introduction
In our Point of Sales or Office module, we give you the tools to manage the events and group booking. You can choose to get all payments onsite at the date of the event or getting pre-payment before the event. the system allows you to create an online downpayment link that you can send to the client. Here below the steps to follow:
Steps
Select or create a reservation and make your offer.
Navigate to 'Payments' tab.
Create a Downpayment.
Fill the desired amount.
Select a payment option: this must be the online payment provider that you currently use. (Required)
The system will create automatically a payment link that you can manually send to the client
You can also create custom offer or reservation emails that send the payment link automatically so you don't need to send the payment manually:
Go to the Document tab in the reservation
Select email kind
Select the email template containing the link
Send it.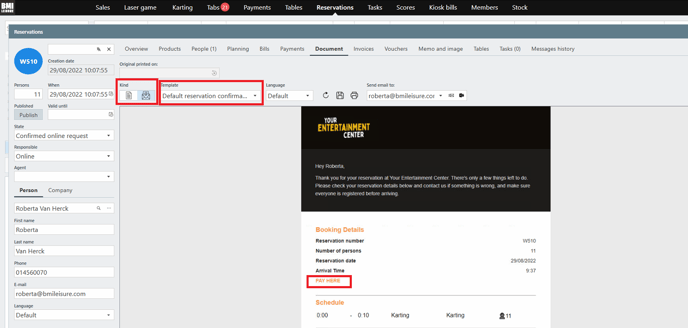 If you don't have an online payment provider, check our integrations here.